We spent the past week in Branson, Missouri — one last family trip before school starts. While we were there, we checked out one of the city's newest attractions, Aquarium at the Boardwalk.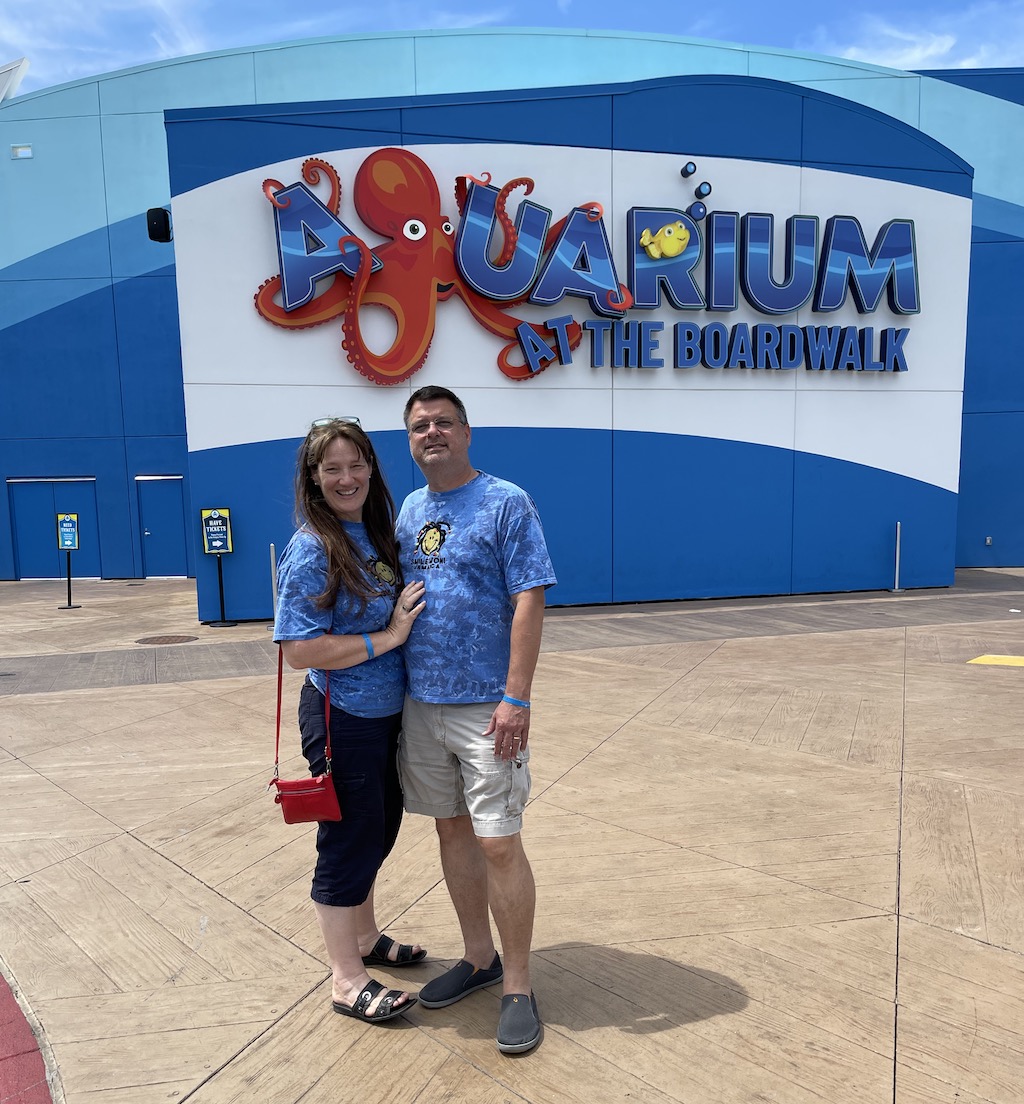 With its 55-foot stainless steel octopus sculpture wrapped around the front of the building, the aquarium is hard to miss. The sculpture makes a great photo op. So does the magnificent 76-foot wide mural painted on the west side of the building.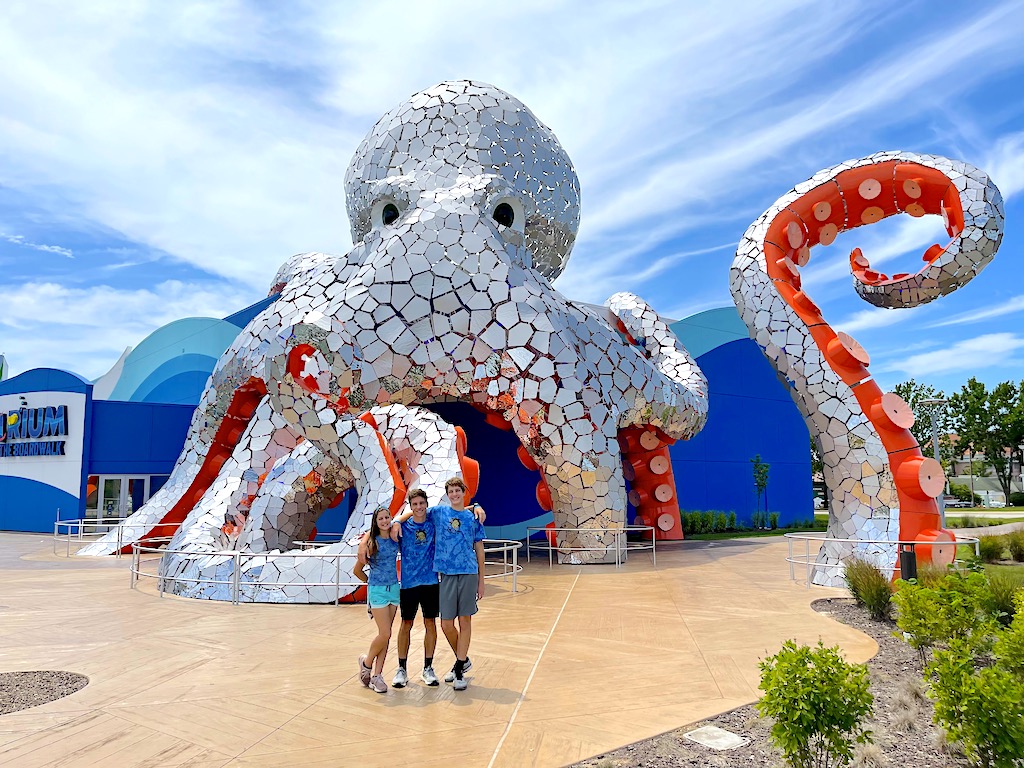 Fun for All Ages
This was one of the most interactive and kid-friendly aquariums we've ever visited. Our tour began with a fun, 5-D "submarine ride," guided by the aquarium's mascots, Aquarius the Octopus and Finn the Golden Puffer. This short film magically transported us to the observation station.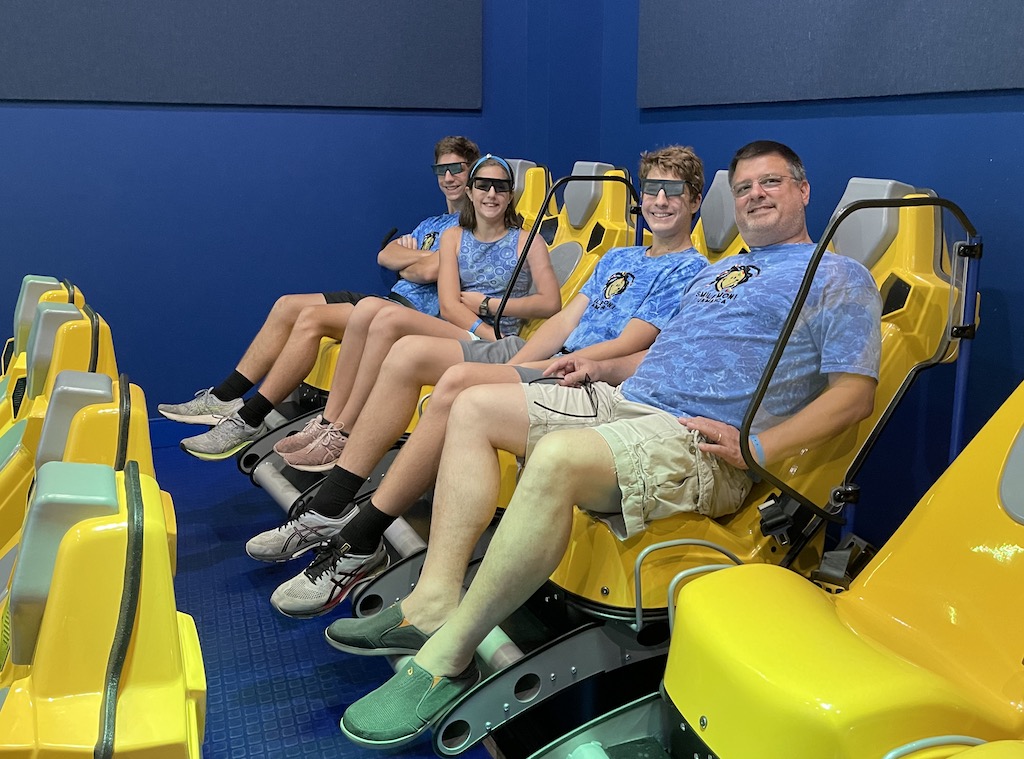 Focusing primarily on ocean animals, Aquarium at the Boardwalk features 400,000 gallons of salt water which serves as home to over 7200 sea creatures from 250 different species.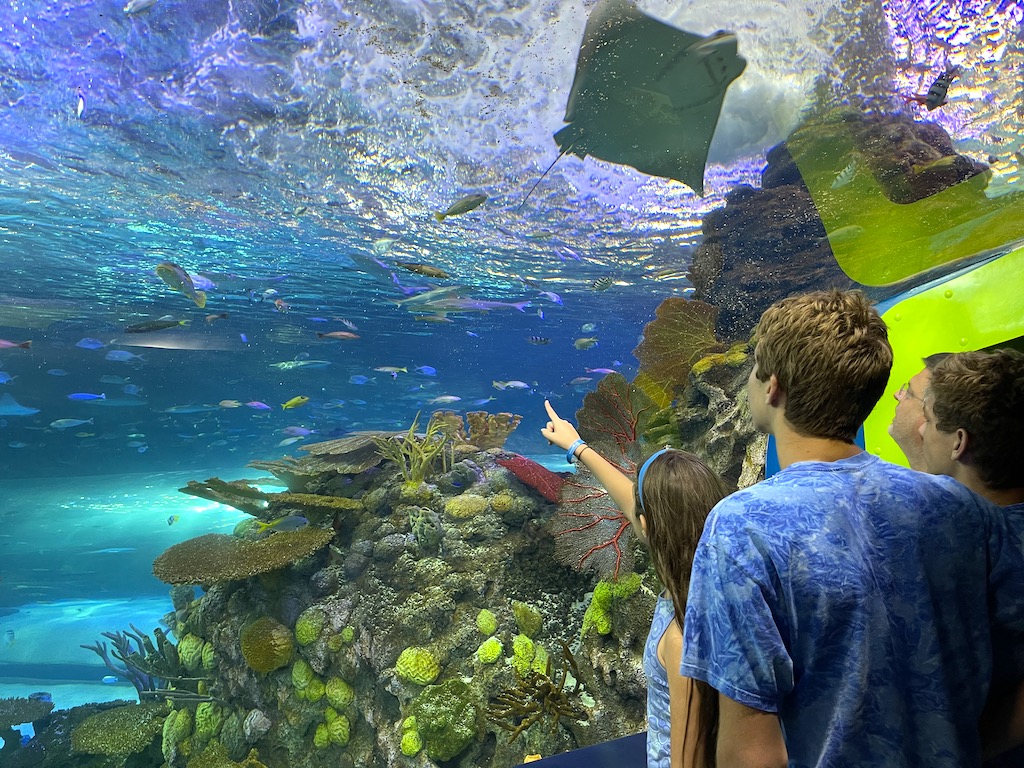 Kid-Friendly Interactive Exhibits and Photo Ops
The aquarium even includes two interactive exhibits where guests can safely touch stingrays, sharks, and horseshoe crabs, as well as sea anemones and sea stars.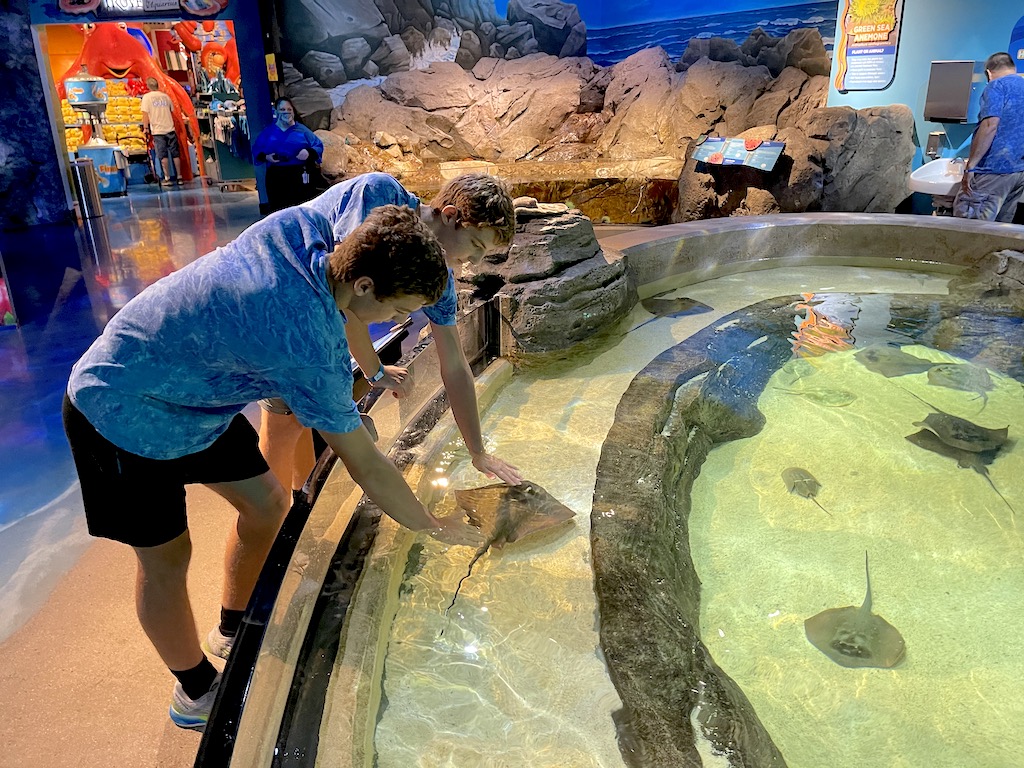 In addition to gigantic tanks filled with as large a variety of tropical fish and other sea creatueres as I've ever seen, Aquarium at the Boardwalk offers many areas that will especially appeal to children, including a wonderful 24-ft climbing structure designed to look like a kelp forest.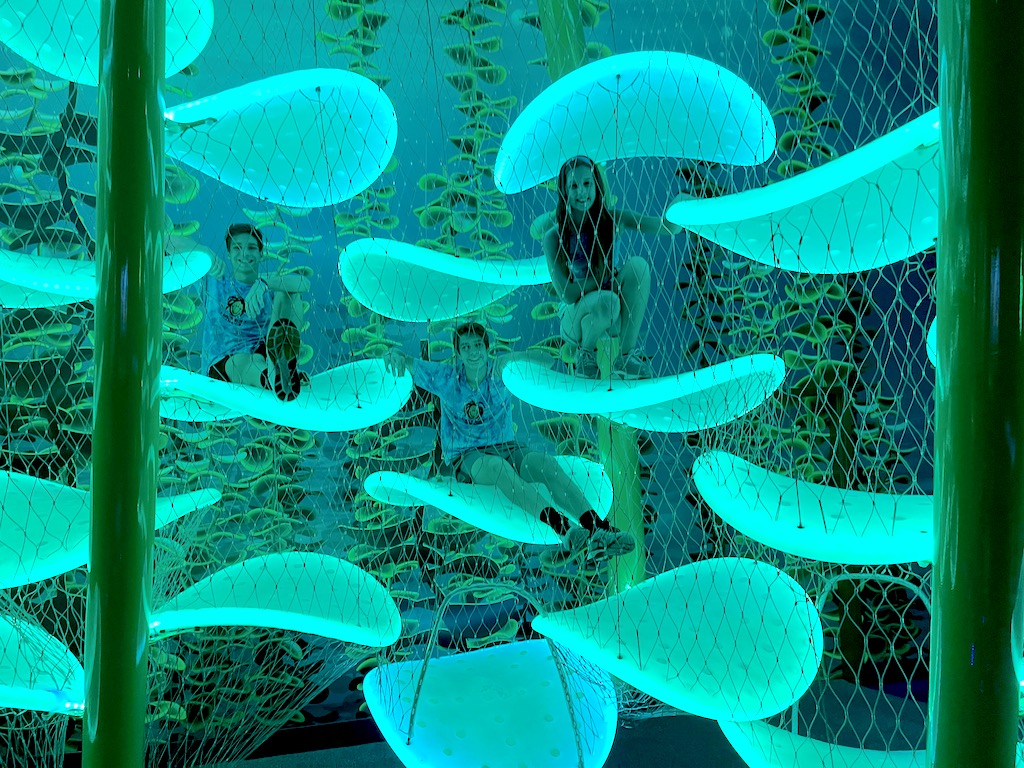 You'll also find some delightful photo ops, such as a sea horse carousel, several crawl-throughs and pop-ups that put kids right in the middle of the enormous fish tanks, a deep sea-diving suit they can "try on" for size, and an opportunity to become mermaids and mermen in an impressive undersea palace.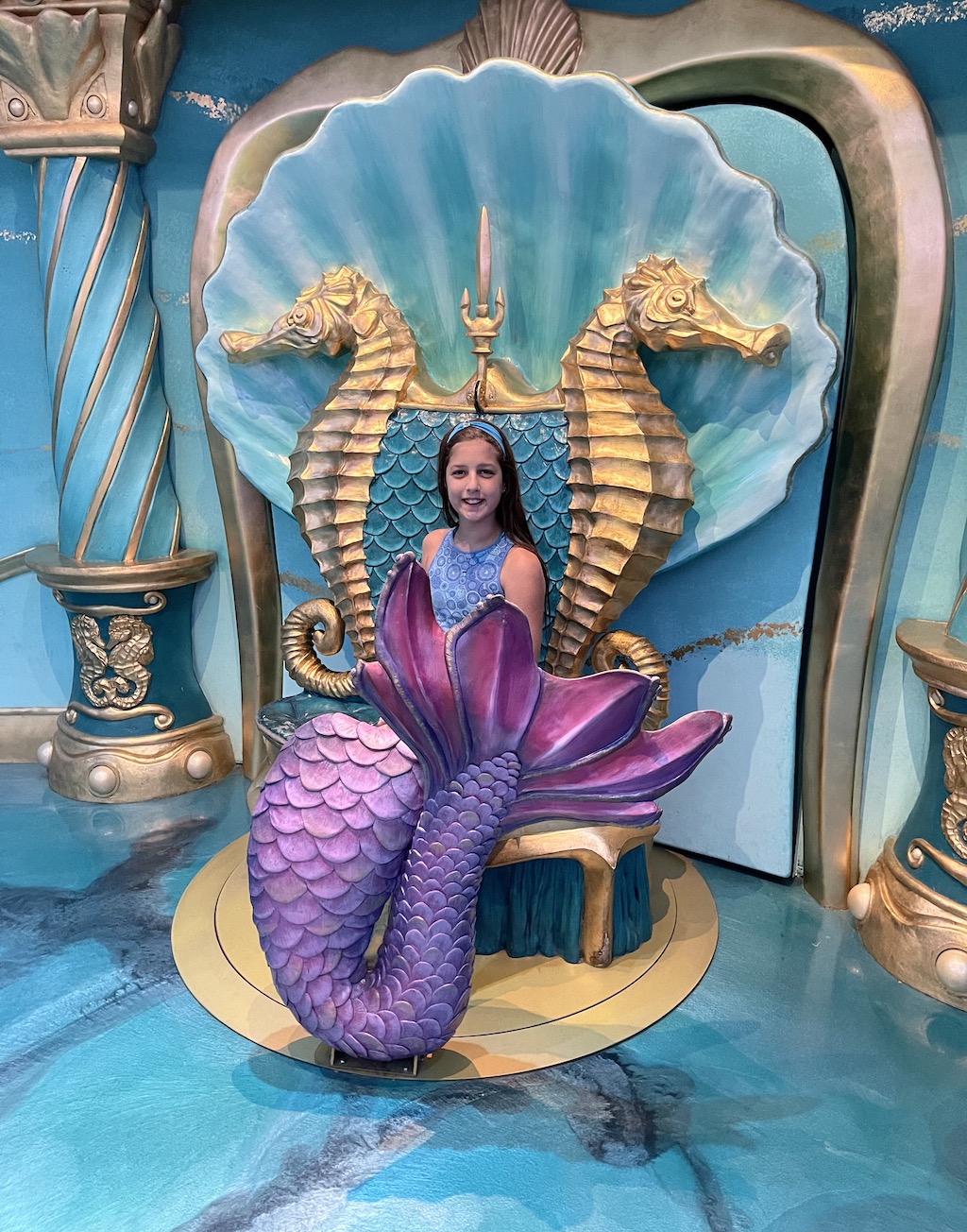 The Jelly Infinity room puts guests right in the center of a vast, color-changing jellyfish bloom. In another display, kids can color a fish, scan it, then watch it swim alongside other guests' artistic creations onscreen. And a wonderful walk-through tunnel allows guest to view these magnificent sea creatures from all sides.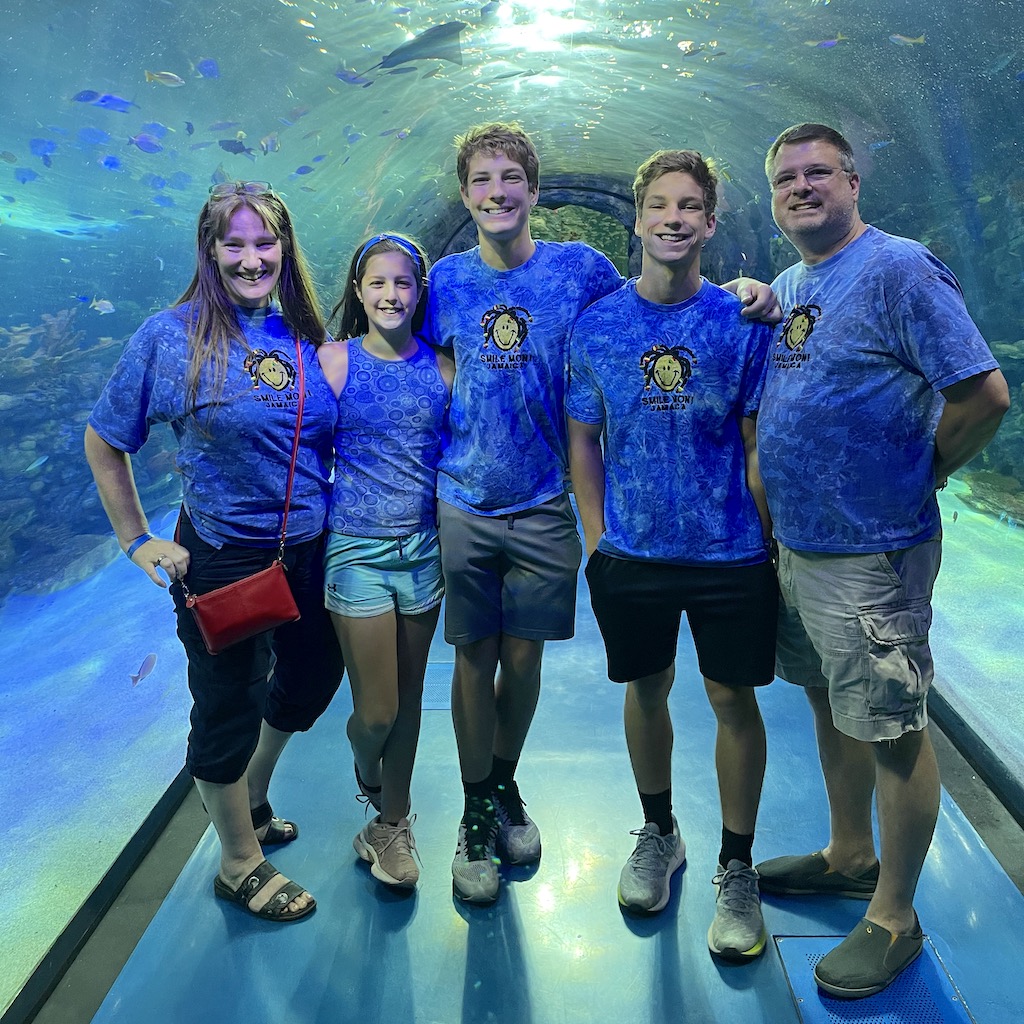 But one of the activities my crew enjoyed the most was searching for the nine octopuses hidden throughout the aquarium. Some of them were so well camouflaged they were almost impossible to find without searching closely in every nook and cranny.
All these features and more made our visit to Aquarium at the Boardwalk the highlight of our trip and the crown jewel of Branson Boardwalk's developing entertainment complex.
Planning a trip to Branson? You'll want to see Aquarium at the Boardwalk yourself. Follow this link to learn more about this fun aquarium and purchase tickets.