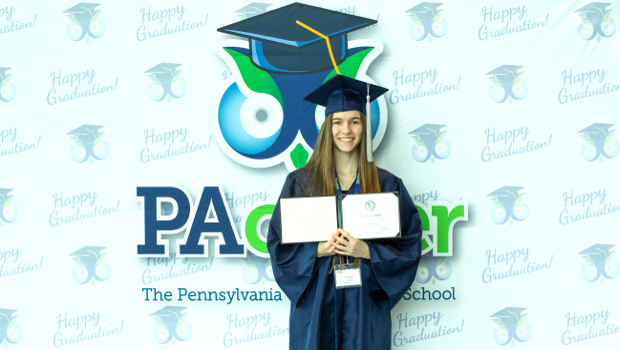 Choose the Right School for Your Child
Education is not a game—it's your children's future.
Parents in Pennsylvania have the power to choose the best school for their children. You know them the best—their interests, hobbies, quirks, and dreams. Make the most informed choice possible because your children's future depends on it.
Looking for better school/life balance? About 11,500 students have selected PA Cyber for the 2021–2022 school year. They may choose live instruction or a more self-paced format. They can choose a class schedule to best suit their lives outside of school. They can complete their schoolwork at home, at grandma's house, or perhaps even take school on the road to their next tournament or special event. At PA Cyber, families embrace the flexibility of allowing the school to fit the student—instead of the student having to fit into the school.
Founded in 2000, PA Cyber is headquartered in Midland, PA, and maintains nine regional offices throughout the state. These locations serve as hubs for enrollment, orientation, and year-round social and school-related activities. PA Cyber students receive one-on-one attention from their teachers and academic advisors who are readily available to help make each student's learning experience great. Extensive course offerings allow students to grow from a solid foundation in core curriculum while unlocking their own personal interests through electives. Students may choose from more than 70 clubs and workshops where they are encouraged to interact and explore various skill sets.
PA Cyber is open for enrollment to any school-age child residing in Pennsylvania and does not charge tuition. Every student receives a laptop, printer, and all the necessary textbooks and support materials to enrich the educational process. Class of 2021 graduate Gabby Appel shared, "I was completely taken back by how much PA Cyber provided—technology and books—in addition to a significant education." The flexibility of PA Cyber's blended courses "allowed for so many more cool opportunities," she explained. "I experienced growing up without the weight of an 8-hour school day." Students frequently use their extra time to work, join clubs, volunteer, foster hobbies, spend time with family, or train for sports.
Students get to interact with their peers in-person at regional offices, on field trips, in clubs and workshops, and at summer camps. They party at prom and celebrate at graduation together. The regional offices host enrichment activities, events, and classes. Through the many Family Link field trips, families can build an important social network. All these events provide students with chances to spend time with others who share similar interests. Many virtual extracurricular activities are routinely offered as well.
School choice ensures that each student has access to a motivating and effective learning environment that inspires them to become successful lifelong learners. Take the time to make the right choice for your student's future. PA Cyber's legacy of nearly 20,000 graduates proves that a unique online education works for many. Over the past two decades, PA Cyber has grown and evolved—right along with its students—becoming one of the largest, most experienced, and most innovative online public schools in the nation. If, for whatever reason, it becomes necessary to try a "different way to school," consider leveling up with PA Cyber. Make the choice.
For more information, visit pacyber.org or call (724) 643-1180.