What if you could have fun with your family without stress? You can! Head to Medieval Times Dinner and Tournament and watch the fun unfold. We took our kids just after Christmas one year and the smiles were from ear to ear all day long. We love finding family activities to do, memories are a precious thing. Getting out and enjoying your great state is key. These are more Free Things to do in Phoenix Arizona you can enjoy.
Medieval Times, Dinner and Tournament
Even the adults had a blast. You're going to have a lot of fun experiencing this with your family. Let me give you a little peek into our day.
Related: 23 Top Things to do in Phoenix Arizona
What's included in each show?
Come ready to be amazed and plan for an all-day outing. Arrive early! Give yourself at least an hour before the showtime. You will want to walk around the shops and let your kids try on fun Medieval Times things.
Purchase any souvenirs BEFORE the show. After the show was a madhouse. I think generally people wait to purchase to see who wins/loses the jousting to decide what they are purchasing. If you don't mind who wins, purchase before the show. Otherwise, you could be in line for a long time.
BONUS: CALL YOUR LOCATION before booking your show. All locations do a "Knight in Training" class for the kiddos. Generally, this is done before the FIRST show of the day only. The kids are able to go to the arena floor and the Knights come out and show them moves with wooden swords.
Related: Top 7 Best Arizona State Parks
My kids had a blast, we were totally unaware of this feature until we got there. So ASK for it in advance so you can book accordingly.
You'll get a 2-hour medieval jousting tournament with 6 competing knights. There are real weapons used and that can be shown from the sparks that fly during battle!
Beautiful horses, at times they present a group of horses that perform a routine. Every horse is beyond beautiful.
Related: 48 National Monuments & National Park Virtual Tours
You'll get the live flight of the royal falcon. This was amazing to watch. This falcon zooms across the arena just buzzing your heads. You are warned to keep your arms down while he is in flight, for your safety. I could only imagine what those talons would feel like if you accidentally got snagged.
The knights perform 'Knight Games' before the jousting. It's really entertaining and most of the time we sat there going, "There's no way they are getting those rings on the stick while riding the horse" but they did just about every time.
Related: 11 Free Things to do in Sedona Arizona
Experience a Four Course Meal
There aren't many shows you can attend that will give you a four-course meal. However, the Medieval Times gives you a four-course meal that you won't forget anytime soon. You get the meal, plus the beverage is included. Non-alcoholic beverages are included that is. The cool thing is that if you are a vegetarian or have allergies, they can take care of you!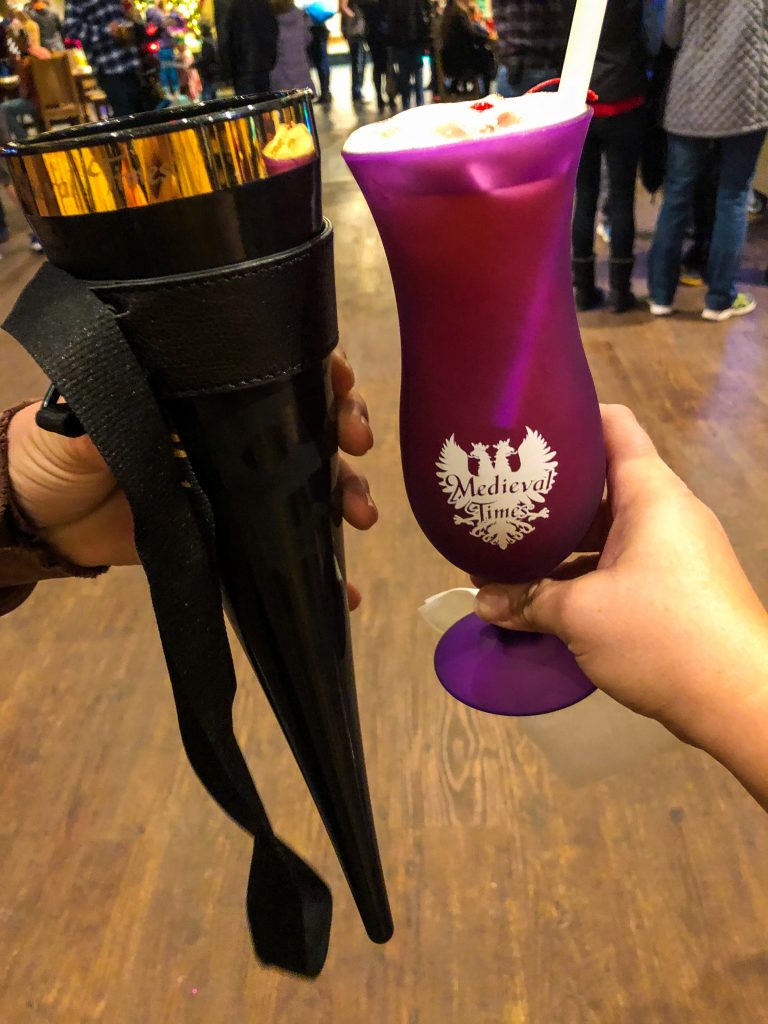 If you'd like to purchase adult beverages from the counter you can. These were our 'cups'. They are souvenir glasses. Refills of your drink are discounted when you purchase the cup. You can order off the alcoholic beverage menu and enjoy yourself a little more.
Related: The Ultimate Guide to Saguaro National Park Arizona
Here is what's included in the four-course meal:
Feast on garlic bread
Tomato bisque soup
Roasted chicken
Sweet buttered corn
Herb-basted potato
The dessert of the Castle
Coffee and two rounds of select beverages
REMINDER: There are no utensils so your kids will be using their hands. Be prepared for that! Bring wipes with you. My kids were scared at first and questioned why we were using our hands. I had to explain to them, there were no forks back then. At that point, they dove in and were excited they could use their hands.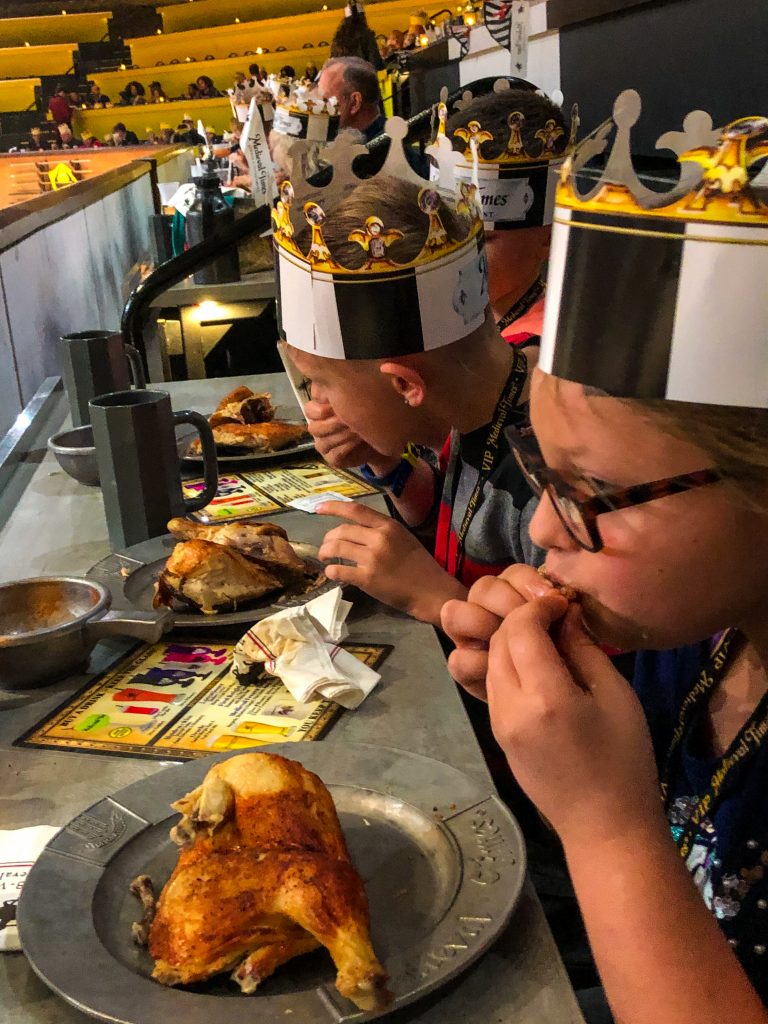 Related: Everything You Need to Know When Visiting the OK Corral Tombstone Arizona
Need vegetarian selections? Medieval Times has some options for that too! Vegetarian meals are available upon request.
Hummus
Warm pita bread
Carrot and celery sticks
Three-bean stew with fire-roasted tomato and brown rice
Fresh fruit or Italian ice
Coffee and two rounds of select beverages
3 Ticket Packages to Choose From
Let's be honest, life is just better when you have choices. Medieval Times Dinner and Tournament have 3 packages that you can choose from to make your life that much better when you visit. Let's dive into these options.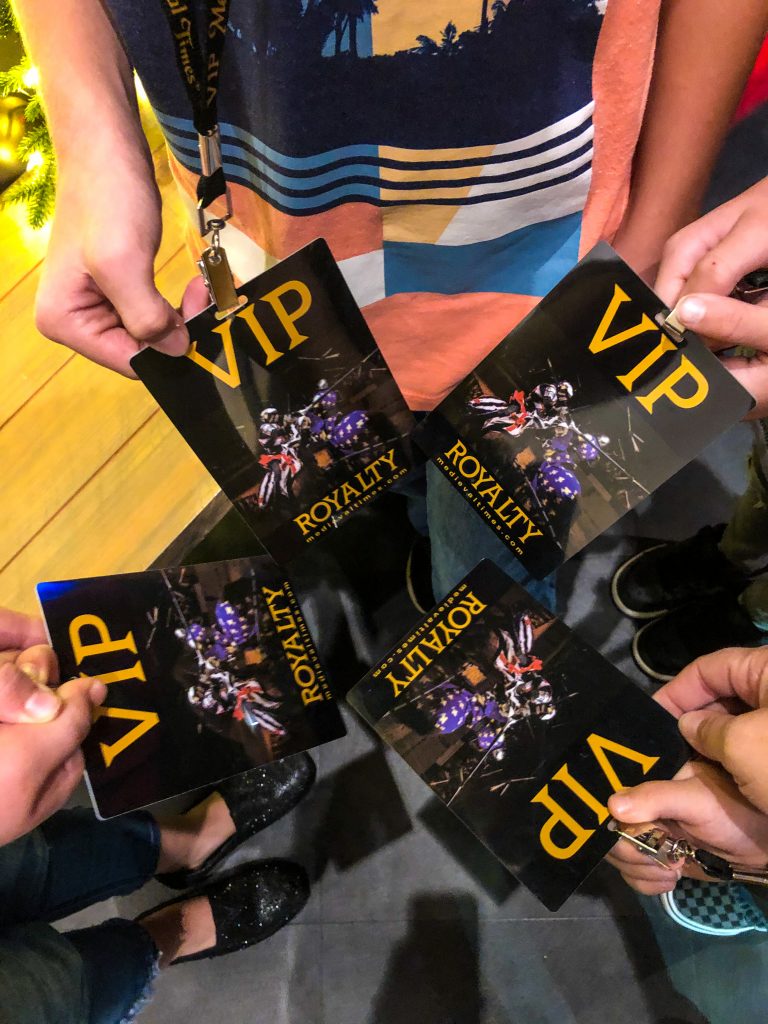 Queen's Royalty Package - The top tier. Most perks and goodies.
Royalty Package
Celebration Package - If you are celebrating a birthday, etc this is the one for you. You get Cake!
Entertainment Like Never Before
The really cool thing about this dinner show is that you are going to experience entertainment like never before. Whether you're here to experience the horses, falconry, weaponry, or the jousting, the entertainment is just purely amazing.
As you can see, the Medieval Times dinner and tournament is something that everyone needs to try at least one time in their life. Check out the Scottsdale location and you will not be disappointed.