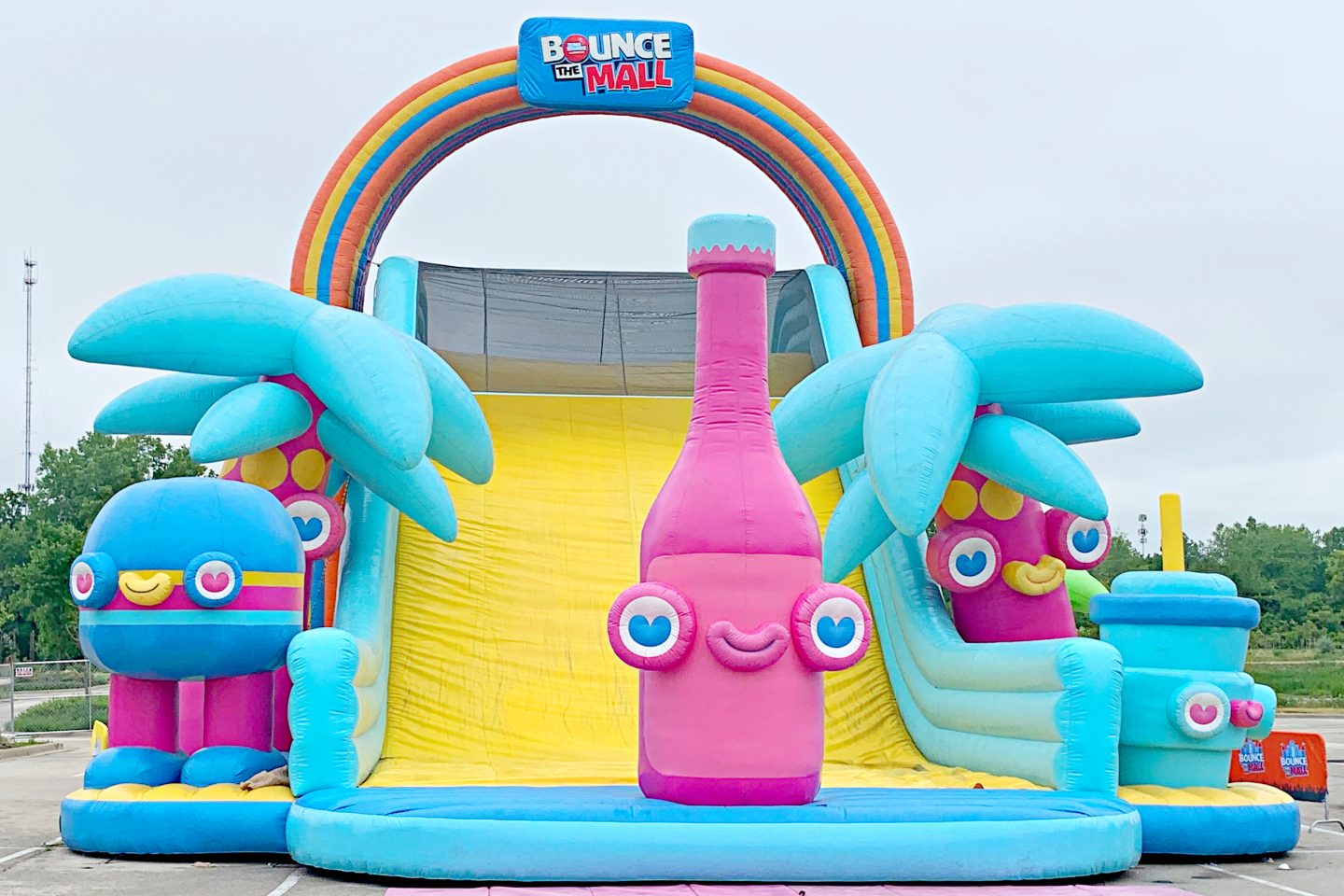 Heavy Saturday night rain into Sunday did not stop our mini road trip to Aurora, IL to Bounce the Mall which is an exciting inflatable bounce house festival held at the Chicago Premium Outlets.
If you are unfamiliar with Bounce the Mall, produced by XL Event Lab - it is an immersive family attraction that promises an exhilarating experience with its eight unique bouncy attractions. Though the weather wasn't ideal, the event turned out to be a fantastic day of fun and laughter for our family.
Bounce The Mall: An Inflatable Extravaganza
The festival features a colorful array of eight different interactive inflatables that cater to all ages and promise to put a bounce in your step. While there are eight to choose from, my son had two that were his favorite which included the Rapid Race obstacle course and a giant slide.
The first experience that both of my boys completed together was the giant slide. They climbed up by hand, although ropes could be used, and took the plunge down.
As soon as they had reached the bottom, my youngest son was sold on the event and ran over to the Rapid Race. As he stood in line for his turn, we waited on the side, in hopes of having him stop for a few photos. While I was able to capture him plowing head-first into the obstacle course, he was not interested in stopping the adrenaline rush for a photo. Haha!
SAVE 15% OFF TICKETS | https://bouncethemall.com/tour-dates/ | CODE BRENNON15
Rapid Race: Thrills and Obstacles Galore
The Rapid Race is an over 600-ft long inflatable obstacle course that certainly gave my son a thorough workout after two rounds through. The obstacle course has hoops to jump through, walls to climb over, candy cane poles to weave around, and ends with a giant 6-lane sneaker-shaped slide.
Instagram-Worthy Photo Ops
Since my son fell in love with the Rapid Race, we had to find other things to do during that time. So, my oldest son and I listened to the live DJ and took a few photos. We also put my daughter on a few inflatable photo ops. I even hopped into one myself! I mean, why not have some fun myself, right?
I thought the inflatable photo ops were the coolest because you don't have to do anything physical besides hop on, balance yourself, and say, "CHEESE"! Or, just give the peace sign! Haha!
Aside from where we spent the majority of our time, there were other areas to participate in, as well such as the Headphone Disco Dome, Sports Slam, and Balls in the Mall.
SAVE 15% OFF TICKETS | https://bouncethemall.com/tour-dates/ | CODE BRENNON15
Headphone Disco Dome: Get Your Groove On
The Disco Dome was the first experience that we noticed upon admission. It's an igloo-shaped inflatable structure house with a live DJ who provides wireless headphones to each guest, allowing them to choose their own beats and dance to the music.
With state-of-the-art lighting and special effects, the Headphone Disco Dome offers a unique 'silent disco style' experience.
After participating in multiple pop-up experiences, I have to commend Bounce the Mall because the DJ who was working the table cleaned each and every headset as it returned to the table.
Sports Slam: The Ultimate Athletic Challenge
Another giant area my son enjoyed was the Sports Slam bounce arena which combines popular sports into one elite competition. The arena was filled with goals, nets, hoops, and balls of all sizes for participants to climb, battle against friends and family, and try to outlast the enormous wrecking ball in the 'battle zone.' Sports Slam just like Rapid Race guarantees an exhilarating workout and friendly competition.
Balls in the Mall and Birthday-Themed Bounce
The final major experience was Balls In The Mall which elevates the Bounce The Mall tour by combining the jumpy joy of bounce houses with the excitement of ball pits. Due to the unforeseen rain, this experience was not set up.
However, participants could still enjoy a similar experience with the birthday cake-themed circular moonwalk. It was complete with giant presents, candles, and ball pits, and seemed to be a huge highlight for some of the younger participants.
Beyond Bouncing: The Bounce Cafe
To ensure a complete experience, Bounce The Mall also features a 'Bounce Cafe' with a variety of food trucks. Once the boys had finished with each of the bounce experiences, they headed right for the taco truck!
Had the weather been a bit more cooperative, I would have liked to relax on the "patio" while they enjoyed their food, instead, I relaxed in the car and waited for them to get their lunch, so that we could head back home.
Final Thoughts
Co-founder of XL Event Lab, Cameron Craig, perfectly describes Bounce The Mall as a "playful inflatable festival set to turn parking lots into vivacious and vibrant springy wonderlands." Despite the wet and gloomy weather, I have to agree that with its colorful, fun, and highly interactive attractions, this event offers unprecedented family-friendly entertainment.
Want to visit with your family?
SAVE 15% OFF TICKETS | https://bouncethemall.com/tour-dates/ | CODE BRENNON15
The post is in partnership with Bounce the Mall. For more photos visit the blog at https://justbrennonblog.com