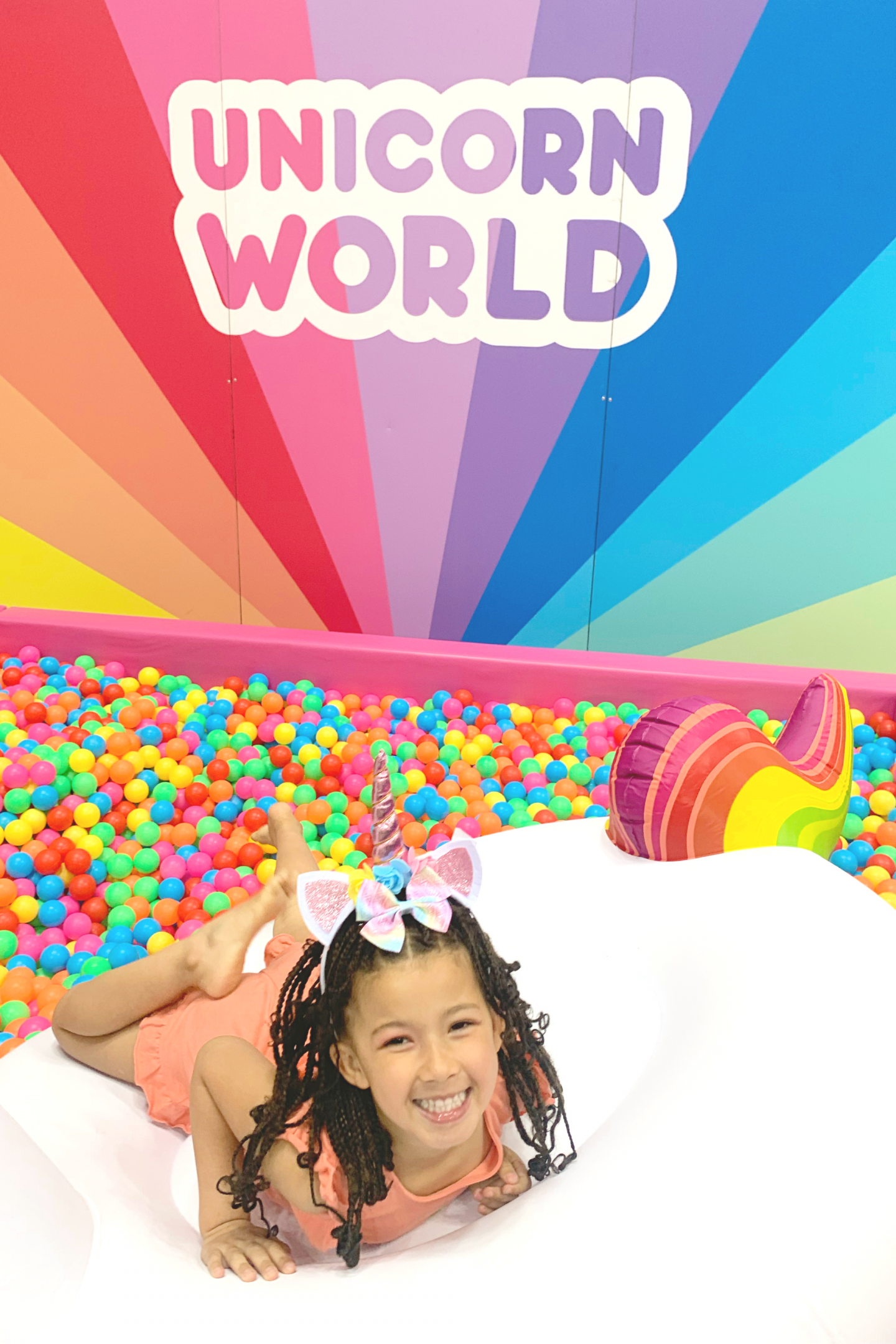 Unicorn World has quickly become a sought-after destination for those seeking a whimsical and enchanting experience, with its vibrant colors, magical unicorns, and photo-worthy installations. It is famous for its picturesque backdrops, making it a paradise for Instagram enthusiasts.
However, before you embark on your journey to this colorful wonderland, there are a few essential things you should know to make the most of your visit. Here are 9 important tips to ensure you have an unforgettable time in Unicorn World based on our recent experience in Indianapolis, Indiana.
Disclaimer | This is not a sponsored post, just my honest review and tips after attending and engaging in some conversations with other parents while there.
1 - Admission is mainly just for photo ops.
Let's just be honest here. Your admission of $39 gets you in the door. The primary focus of the admission cost is to grant you access to their captivating photo opportunities. The installations are designed to create stunning visuals, so make sure to bring your camera or smartphone to capture those magical moments. With this being said, the fun activities cost extra.
2 - Activities are extra! Buy a wristband.
While admission grants you access to the venue, it's important to note that additional activities within Unicorn World will come at an extra cost. These activities include a variety of unicorn rides, face painting, and bounce houses.
So, plan your budget accordingly and decide which activities you'd like to participate in to avoid any surprises. You have the option to buy tickets at the venue which are (4) for $10 or purchase a wristband online. It takes (1) ticket per bounce house and (4) per unicorn ride. Face painting is $20. You should also know that they do not accept cash, only card, and you will pay taxes on your purchases.
3 - Plan for more extras.
Apart from the abovementioned activities, Unicorn World often offers extras like unicorn-themed merchandise, snacks, and beverages. Consider having extra money available if you'd like to indulge in these additional delights or take home a magical souvenir.
You can also take Enchanted Fairy photos while there which costs about $40. However, since we have already had these done in the past, we opted to not do them here. You can read about our experience in Aurora, Illinois from this post. But, I would say, plan to have the photos taken because they are truly magical.
4 - Bring socks for the bounce house!
To maintain a hygienic environment and protect the bounce house floors, jumpers are required to wear socks. Bring a clean pair with you. If not you will have to buy a pair for $5 plus tax. They are a pair of thin white ankle socks.
Central Indiana Enchanted Fairy Festival | A Must Read
5 - City parking can be expensive.
If you're traveling to Unicorn World by car, be aware that city parking near popular attractions can often be expensive. Research alternative transportation options such as public transportation, ride-sharing services, or carpooling to save on parking costs and potential headaches.
From our experience, parking in the north garage was $20, while parking in an event parking lot was $10. We parked in the open lot for $10.
In a past experience visiting a similar experience (Jurassic Quest in Chicago) parking was about $32. I'm sharing this to give you an idea of how much you will be looking to spend.
6 - Decide on lunch and snacks before you go.
Unicorn World can be a whimsical and immersive experience that might make you lose track of time. To avoid hunger pangs or long wait times at food stalls, decide on your lunch plans in advance.
Whether it's bringing a packed meal or snacks or eating there, having a plan will help you make the most of your visit without interrupting the magical flow.
During our visit, we stayed a few hours and the girls did get hungry, so I packed a few snacks and water bottles to hold them over until we had lunch afterward.
7 - Go with patience.
Unicorn World can attract large crowds, especially during peak times on the weekends. Expect long lines and be prepared for a bustling atmosphere that can sometimes be chaotic.
Patience is key to enjoying your visit, so adopt a relaxed mindset and make the most of the opportunity to soak in the enchanting atmosphere.
8 - Have some sanitizer.
Maintaining hygiene is essential, particularly when visiting popular attractions. Keep a small bottle of hand sanitizer in your bag to ensure cleanliness throughout your adventure in Unicorn World. It's a simple yet effective way to stay refreshed and germ-free, especially after interacting with various surfaces. I also brought along some wet wipes for after the bathroom and snacks for the girls.
9 - Have fun!
Lastly, and most importantly, remember to have fun! Unicorn World is designed to transport you to a realm of magic and wonder. Embrace the joyous atmosphere, let your imagination run wild, and create lasting memories in this extraordinary world of unicorns.
Final Thoughts
Before stepping into Unicorn World, be sure to keep these ten tips in mind. From understanding the primary focus of admission to preparing for extra expenses and long lines, these insights will help you make the most of your visit.
Remember to bring socks, plan your lunch, and have some sanitizer to enhance your experience.
With these preparations in place, you'll be ready to embark on a whimsical journey through Unicorn World. So grab your camera, don your most colorful attire, and get ready to immerse yourself in a world where magic and dreams come alive!