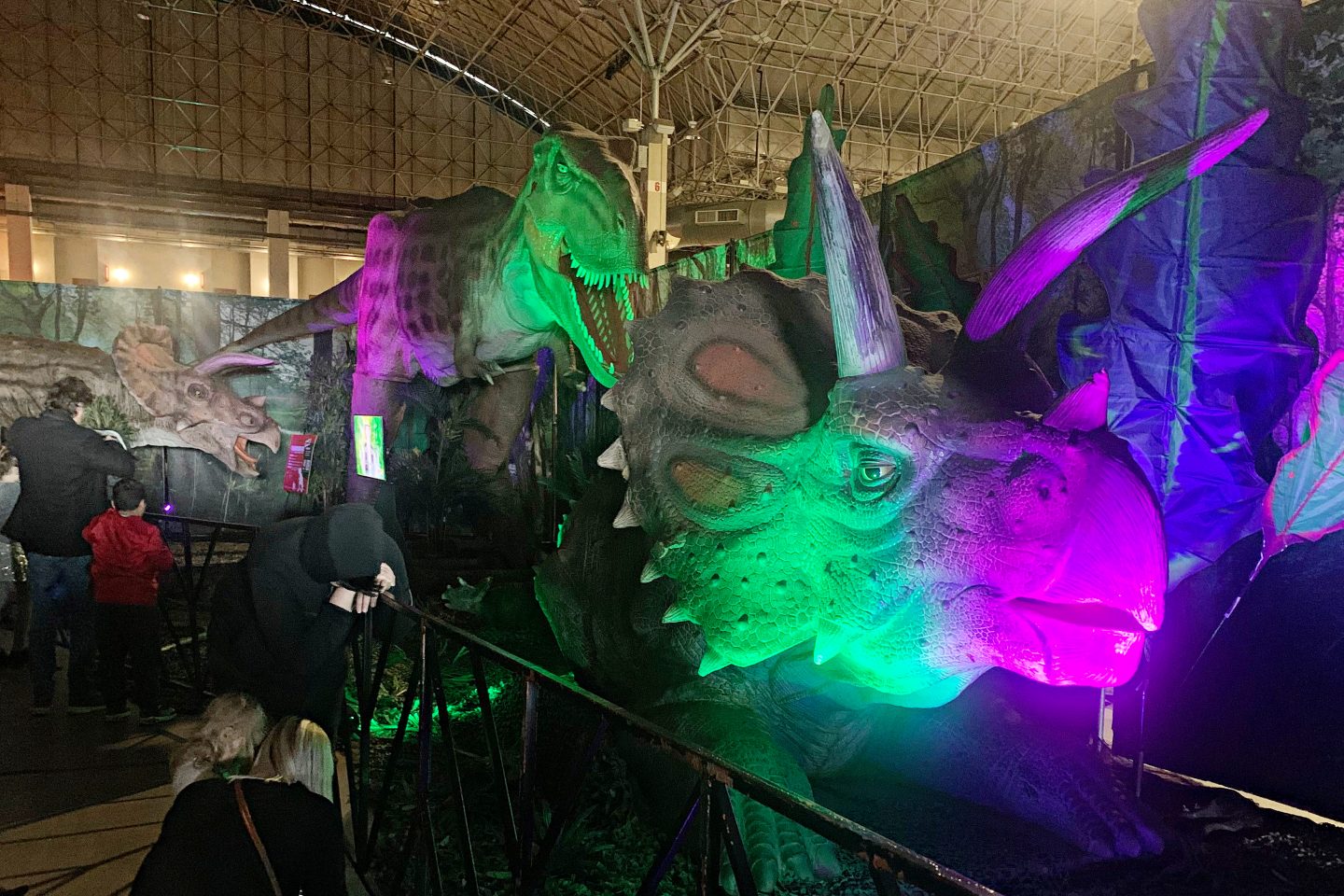 After tons of planning and anticipation, we made it to Jurassic Quest at Navy Pier in Chicago. Here's a bit about what you should know if you are a dinosaur lover looking for a fun and educational experience. Or, if you are just wanting a fun day out for you and the family.
But, before we jump into what you can expect, hop on over to Plan the Ultimate Dinosaur Road Trip to Jurassic Quest in Chicago in 2023.
In that post, I've planned out an entire dinosaur-themed road trip that you will come to appreciate if you do go to Jurassic Quest. In fact, we followed it to the letter with my daughter wearing dinosaur-themed attire, a dinosaur-themed swag bag for my tween son for the car ride, dinosaur fruit snacks, etc.
Now, What is Jurassic Quest?
Jurassic Quest is a traveling dinosaur exhibit that has been entertaining and educating audiences across the United States for quite some time now. The exhibit features life-size, dinosaurs that look just like the real thing. From the ferocious T-Rex to the gentle Brachiosaurus, visitors can see these prehistoric creatures up close and personal.
Not only can you see the dinosaurs, but there are informational signs and posters throughout the exhibit that give you plenty of information about the dinosaurs. Some signs even include QR codes that will direct you to additional information.
We had an interesting time looking around at each of the dinosaurs and then reading about them. It's also amazing to know that there were different time periods for the dinosaurs. For example, the Triassic Period was from 251-199.5 million years ago. How fascinating to learn and know?!
Aside from learning about the dinosaurs this way, there were video showings and other ways to learn throughout the exhibit.
Fun and Interactive Activities
From our own personal experience, I can tell you that the children there were having the time of their life. It was so fun to watch families lining up for photos at different photo opps like the Jurassic Quest egg or the inside the mouth of the T-Rex.
But, also participate in various activities such as the fossil dig, where they can uncover dinosaur bones just like a real paleontologist or ride the various dinosaurs. There was also a "dino theater" where visitors could watch educational videos about dinosaurs and their habitats, as well as a green screen to have your photo taken with a dinosaur.
As we ventured through the quest, it was fun to see a photo opp at the end that read, "Quest Complete" with two dinosaurs where you could capture one last photo and make it official that your Jurassic Quest was complete.
General Admission and VIP Admission
While there were several activities to participate in, I've only listed a few. I also didn't include the crafts, options to buy dino swag, etc. With that being said, it's important to know that there is two admissions.
The general admission is for the basic quest. But to participate in all the fun activities, you will need VIP admission which is about $10 more than general admission.
If you are reading this and planning for your visit, I would encourage you to opt for the VIP ticket if you have children. If you only get the general admission and they want to participate in all the fun, you may find yourself repeatedly going back to purchase tickets for activities and costing yourself a whole lot more than if you had just opted for the VIP admission in the beginning.
Parking Can Be Costly
Depending on your budget, parking can be costly. We parked in the Navy Pier Parking Garage and paid $32 for two hours. This included sales tax. Initially, I budgeted $20 for parking, but we stayed longer than expected and tax was included.
Final Thoughts
With all of this in mind, if you take anything away from this, take this. We had a fantastic time and if my daughter was a bit older, I would have wanted the VIP admission for her.
The exhibit is open for a limited time only, so be sure to check the schedule and purchase tickets in advance. Having tickets ahead of time got us through the line so much faster.
You should also know that I would highly recommend that you arrive early to avoid long lines and crowds. It was very crowded when we went at about 1 pm.
Full review with photos on the blog!