See how we made a tasty (and giant) chocolate chip earth day cookie! It's the perfect way to celebrate Earth Day with kids! Thank you to [eafl id="16840" name="Baketivity" text="Baketivity"] for sponsoring this post.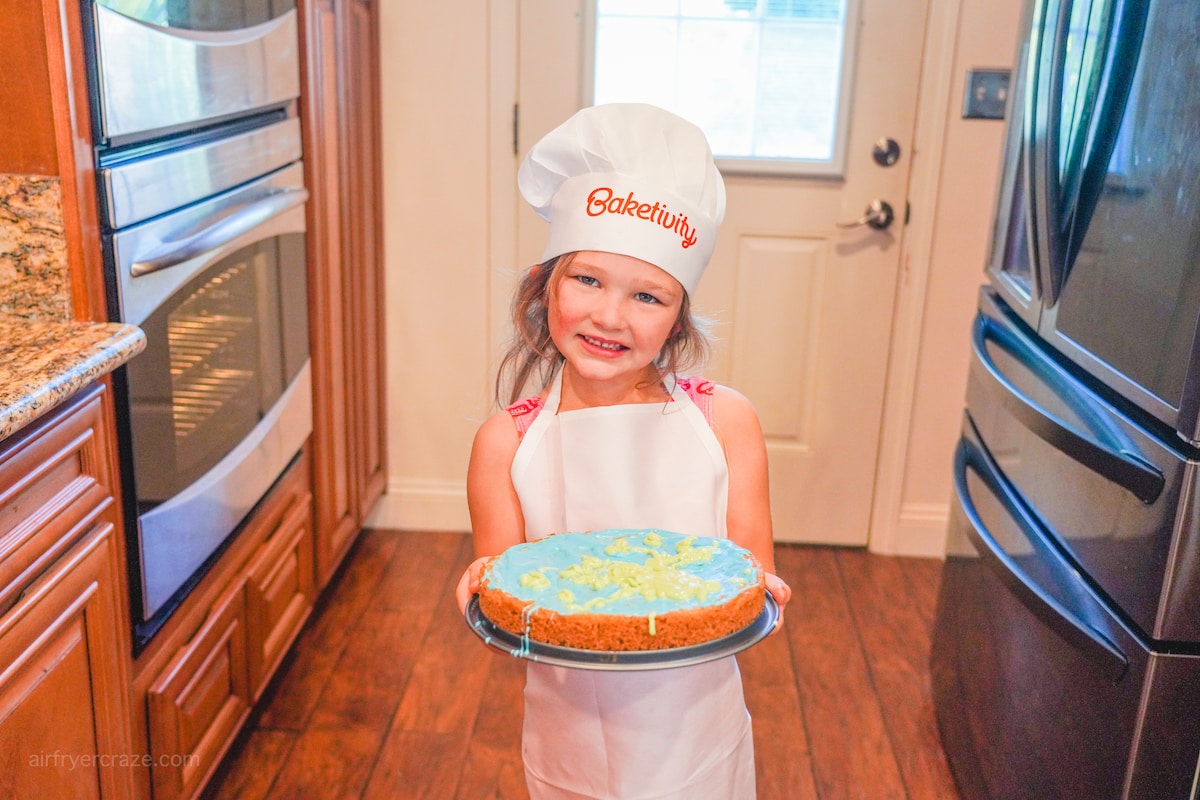 My 5-year-old daughter and I baked a giant chocolate chip cookie and decorated it to look like our planet earth! We got the directions and ingredients for this recipe from our [eafl id="16840" name="Baketivity" text="Baketivity subscription box"].
More Earth Day Fun: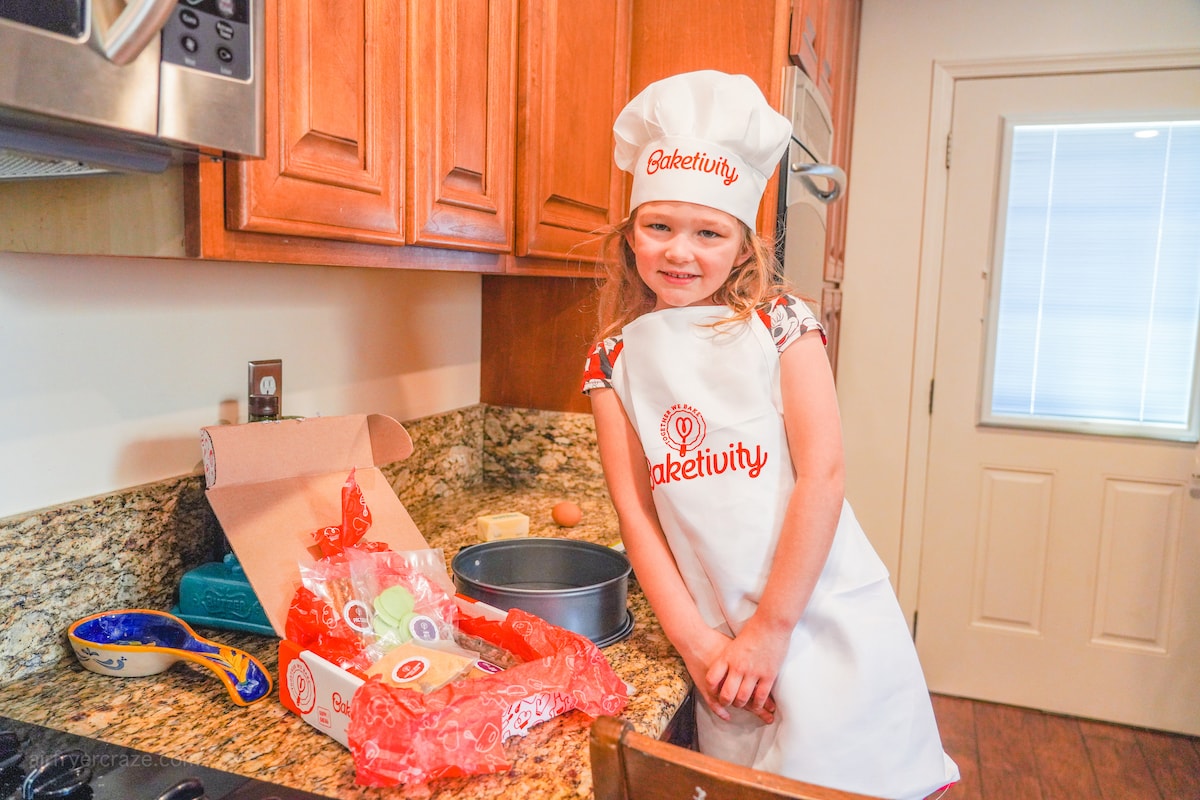 Inside the Baketivity Earth Day Cookie Kit
It came with a full color recipe that included pictures for each step. This helped her complete many of the steps independently, despite not reading fluently yet.
We loved that all of the ingredients were pre-portioned and color coded to match the steps of the recipe. All of the ingredients were very fresh and I only had to provide a couple of ingredients (butter and an egg) to make the earth day cookie.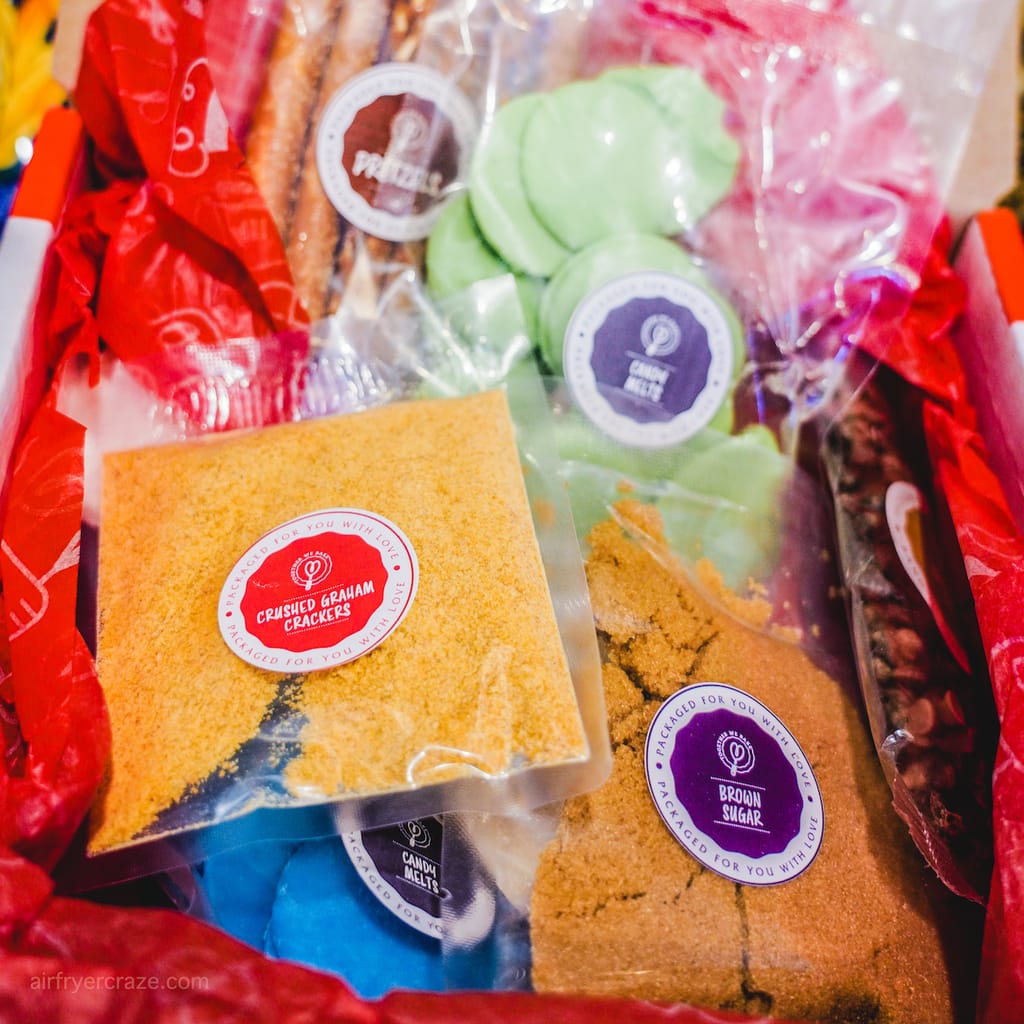 Does baking count as homeschool?
In case you were wondering, yes, I totally counted this as part of our homeschool day. [eafl id="16840" name="Baketivity" text="Baketivity"] even included some talking points about Earth Day in the recipe pamphlet!
Not only was this a fun recipe to make, it taught a lesson, too.
Baking with her covered math, science, reading, and motor skills. Plus, we got to spend some time together and eat something delicious. That's really the most important part.
Decorating the cookie to look like Earth
After the cookie cake baked and cooled (and we took a quick trip to gymnastics class), we got to play with candy melts to decorate it to look like the planet earth. This was my daughter's favorite part!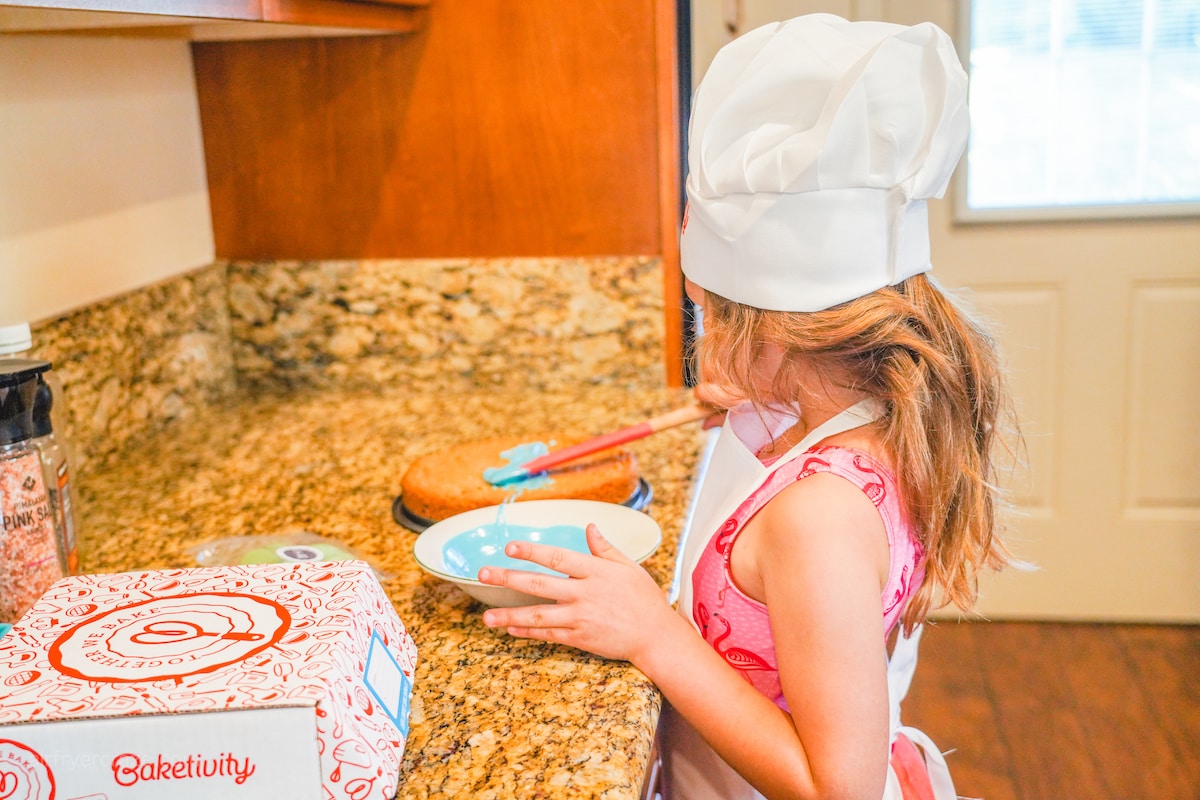 Thanks to the visual directions, she told me how we were going to melt them and put them in the pastry bag before I had a chance to read the directions. I set out a picture of the Earth from our [eafl id="18759" name="Maps Book" text="Maps book"] as inspiration for her.
We talked about how the blue represented the water and the green represented the land. We also talked about how decorating was an art and it wouldn't look exactly like the picture. That's when she decided to really make it art and create a design instead of trying to form the continents with the green candy melts.
I loved how it turned out and so did she. She was SO excited to show it off to the whole family.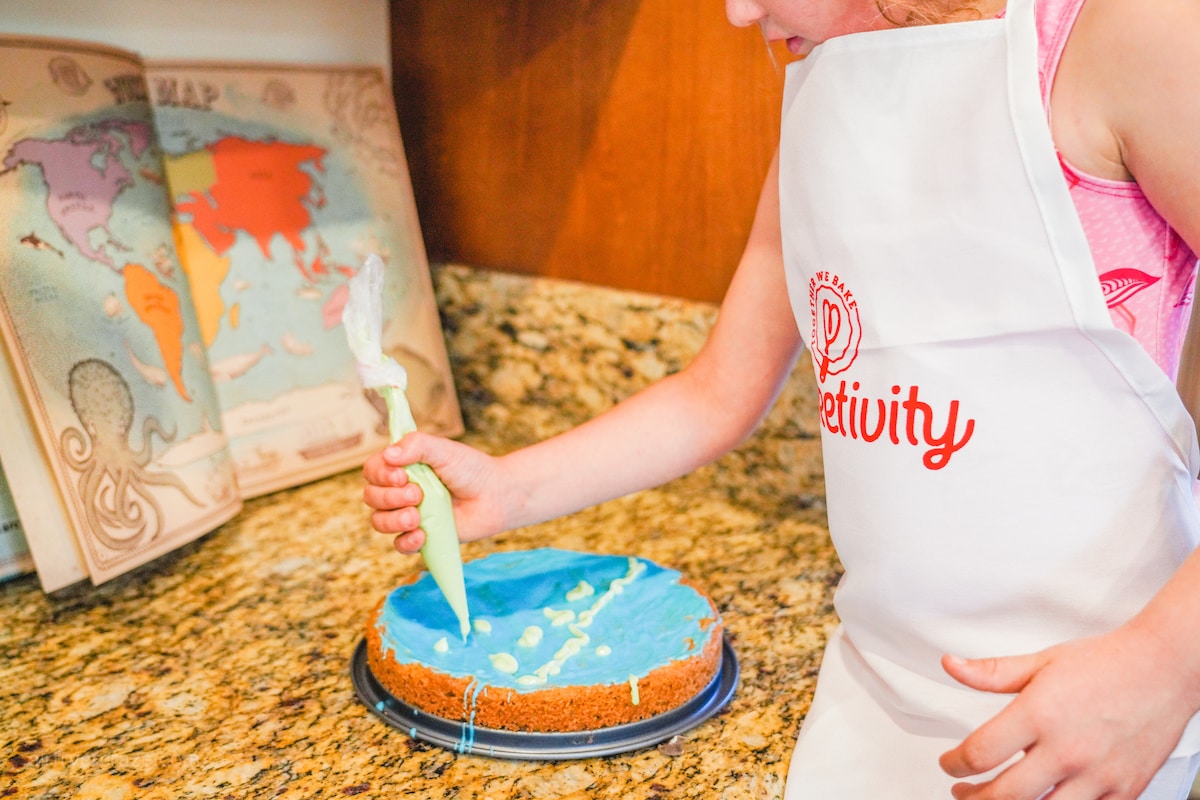 Taste testing our Earth Day cookie creation
After sharing her creation, we immediately cut into it and enjoyed the fruits of her labor. It was a tasty cookie cake. It was perfectly chewy with a bit of crunch, thanks to the addition of caused pretzel rods.
The candy melt frosting was a bit sweet for me, but my kids absolutely loved it!
We are already looking forward to seeing what comes in our [eafl id="16840" name="Baketivity" text="Baketivity box"] next month. I'm not sure if I'll share the next one in a full blog post, but will at least share on Instagram.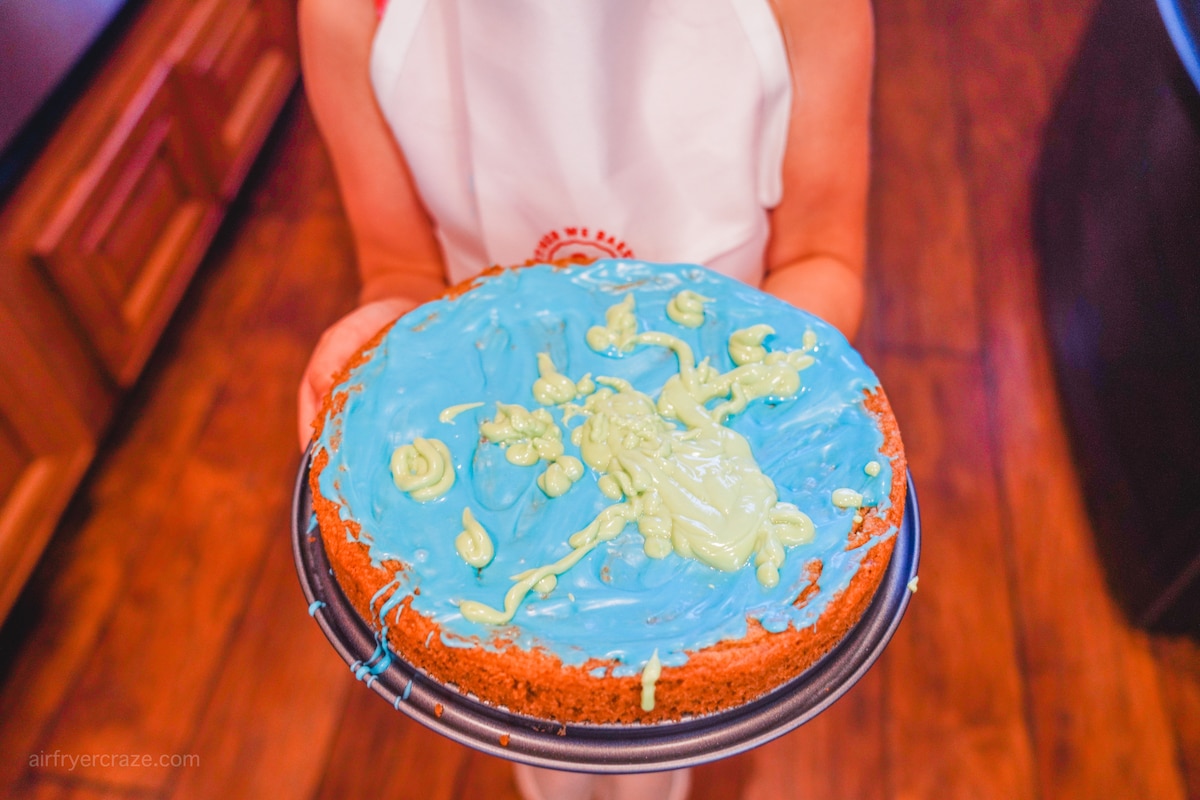 About Baketivity
[eafl id="16840" name="Baketivity" text="Baketivity"] offers one-time kits, kid-friendly baking accessories, and a monthly subscription box. Each subscription box includes pre-measured ingredients, an easy-to-read recipe, shopping list, and game or activity to do while the goodies bake. Read our full review on Baketivity here.