Have you ever wondered it at home teeth whitening kits actually work? Or do you wonder if its possible to whiten sensitive teeth from home? Allow me to share my experience…
At Home Teeth Whitening
Over the past few months, I've been keeping a secret from you, but I'm finally ready to reveal the truth: I've been whitening my teeth with the Smile Brilliant Teeth Whitening Kit. Not only has enough time passed where I feel confident sharing my Smile Brilliant Teeth Whitening Kit review, I loved the results so much that I want to give away a kit to one of you!
Before I get into the nitty-gritty of my Smile Brilliant honest review, allow me to share a little bit of what brought me to want to whiten my teeth recently.
My Teeth Whitening History
My history with teeth whitening goes all the way back to college (yes, they did have ways to whiten your teeth way back then :). As a six-year-old, I jumped backward off a pool deck, but didn't jump far enough and hit my chin on the pool drain, which resulted in cracking my chin open and needing stitches. As you can imagine, the force from my chin hitting the metal caused my front two teeth to chip.
From that point forward, I've always been sensitive about my teeth and my smile. Fast forward about a decade to when I left for college. I finally had the opportunity to fill in the holes and chips in my front teeth, but the discoloration remained. Thankfully, my dad found a dentist who could help with whitening my teeth, but because I was young and probably wasn't as disciplined as I should have been, the whitening didn't last long.
It wasn't until just before my birthday this year that I wanted to do something for myself and my husband. As the parents of teens, we've become so focused on taking care of them that we weren't living our best lives. Improving our smiles seemed like an effective and attainable way to not only make a difference in our appearance, but to positively affect our daily lives. (Smile Brilliant offerering us the chance for us to try their at home teeth whitening system together did just that).
A Comparison of Teeth Whitening Methods
If you're already thinking about whitening your teeth, chances are you're no stranger to the different teeth whitening methods on the market today.
Strips
* Widely available and rather inexpensive, but it doesn't stay in place long enough to open pores or reach every surface
Charcoal
* Also rather inexpensive, but offers very temporary whitening
LED
* The biggest pro to this method is that it doesn't create much sensitivity because the at-home methods do not generate the same frequency as the professional lights, but that also means you won't see the same results.
Trays
* The #1 recommended method by dentists, custom-fitted trays offer the best coverage and therefore the most comprehensive whitening, but is also a longer process and may cause more sensitivity because of the deep stain removal. This method can also be more expensive, but the results are longer-lasting than any of the other methods above.
Smile Brilliant uses the custom-fitted whitening tray method, but what sets them apart is that they cost about 70% less and are up to 5 times faster than what you would find at the average U.S. dentist (where it can cost $500 or more).
My Concerns about Smile Brilliant Whitening
I'll admit, I was a little nervous about using the whitening gel; after all, I try to live as 'natural' a life as possible: I brush my teeth with natural toothpaste, I oil pull every morning…I even juice celery for my health. So the thought of keeping something on my teeth for hours that would change their color worried me slightly.
That being said, I'm a lifelong tea drinker who has suffered the effects of my green tea and chai addiction. When I learned that Smile Brilliant's founder and President as also a lifelong tea drinker with over 30 years of experience as a dental professional – and that all stains could be removed within 14 applications – I decided it was worth the effort.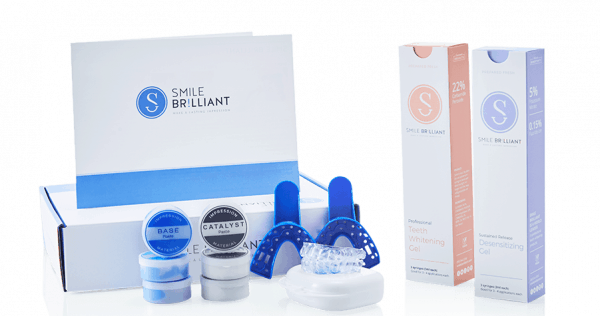 Smile Brilliant Teeth Whitening Kit Details
Here is what you will receive in your Smile Brilliant teeth whitening kit:
1 set of custom-fitted teeth whitening trays
2 impression trays to create your mold
3-way postage (all postage between you and the lab is covered)
3 sets of impression material t0 make your own dental impressions (1 extra set of material in case you mess up – which we each did!)
9-18 applications of Professional Teeth Whitening Gel (depending on which whitening kit you select)
Desensitizing Gel (if you choose the "sensitive" package)
My Smile Brilliant Teeth Whitening Kit Experience
What makes this Smile Brilliant review unique is that not only did I get to experience their teeth whitening kit, so did my husband. Honestly, it was interesting to see how our individual temperaments and habits influenced our whitening experience.
As I mentioned above, we both had trouble creating our molds, me because I couldn't position my bottom mold properly and my husband because his gag reflux kept kicking in. Thankfully, each kit comes with an extra set of impression materials, as well as multiple pictures explaining how to fix your impression technique if you're having difficulty creating your custom molds.
Once we sent in our molds, it only takes the lab about 3-5 days to create our custom-fitted trays and send them back to us (remember, all postage is included). It then takes about 7-14 treatments to remove all stains. We found this true as well: we each whitened for about two weeks, forgetting a treatment or two during that time period due to schedule or fatigue.
Smile Brilliant recommends you whiten before bedtime for anywhere between 45 minutes to 3 hours at a time. For me, that meant making sure I ate dinner by 7pm and then knowing I couldn't eat again before bed (I'm not saying this system will also promote weight loss, but it certainly helped me curb my pre-bedtime snacking!).
On the flip side, my husband had trouble following through on the pre-bedtime routine, so he would often take the trays with him to work and wear them during the day. Even though he didn't follow traditional protocol, I'd say he still achieved impressive results.
One other note: even though we received the desensitizing gel with our "sensitive" package, each of us only used it once and didn't find the need for us. I would categorize my teeth as mildly sensitive, but this whitening system never bothered or 'hurt' me at any time.
Before & After Smile Photos
So are you ready for the proof? Here is my husband's before and after photo: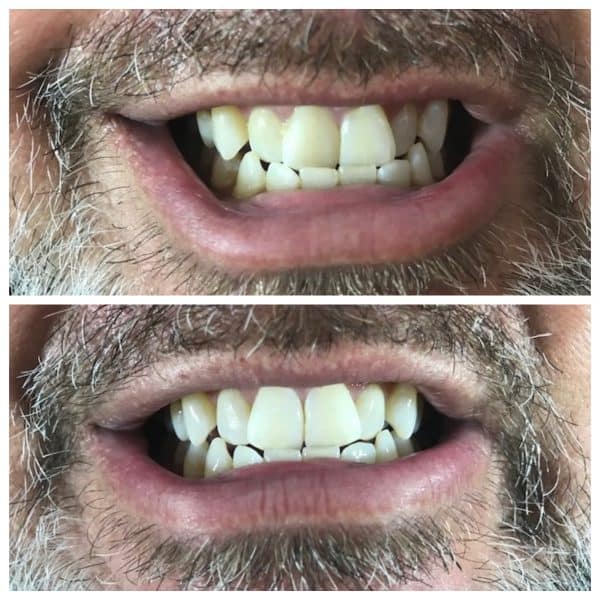 And here is my before and after photo:
If I'm being completely honest, I don't feel like the pictures do the results justice. I felt like my teeth became much whiter than the "after" picture showed. (Perhaps it was just the boost of confidence that came from the whitening process.)
Smile Brilliant's Customer Service is Stellar
One thing that exceeded my expectations was both the customer service from Smile Brilliant and how thorough the instructions and guides were that came with our whitening kits. From actual photos to illustrated guides, it truly seemed like the Smile Brilliant team thought of every question could ask before I even asked it.
Plus, Smile Brilliant allows you to experience a 45-day trial and then extends customers 2-year warranty. Now that's an experience I can get behind.
Win a Smile Brilliant Teeth Whitening Kit!
SMILE BRILLIANT GIVEAWAY DETAILS:
Are you convinced? Well don't just take my word for it; it's about time you tried Smile Brilliant for yourself! And what better way than to win a Smile Brilliant Teeth Whitening Kit.
I'm giving away a $149 Smile Brilliant credit – the value of their T3 Sensitive System. Enter here:
Enter my SMILE BRILLIANT GIVEAWAY
The giveaway only runs for two weeks and is open to USA, UK, Australia and Canadian residents.
SMILE BRILLIANT COUPON:
Maybe you don't even want to wait to see if you win the teeth whitening giveaway and you're ready to start your at home teeth whitening. If that's you, take advantage of the unique 15% off coupon code Smile Brilliant provided me to share with you: samicone15
Now It's Your Turn
That's it! What questions do you have? What is your smile story? Have you tried whitening your teeth before? What is holding you back from whitening your teeth? I'd love to hear from you in the comments below.
Isn't it time for you to smile fearlessly?
Disclosure: I partnered with Smile Brilliant to bring you this review. As such, they provided teeth whitening kits for both me and my husband. All opinions and text are completely my own