I had the opportunity to try a new Photo printing site. Printique. They are part of the Adorama Pix family which I love..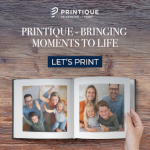 It was super easy to use.. just pick a picture from your camera roll and upload and choose the canvas size and how you want the edges and submit.
It turned out great. And the packaging was amazing.
My son (the Goalie) stole it for his room immediately. I will be ordering more!
Do you want one?
When moments matter, print them. Printique is an online photo boutique that specializes in printing memories on photo books, prints and wall decor. Take the time to print your life for you and your little ones. Save 15% on your first order with code: WELCOME15
Save 15% on your First Print Order - When moments matter, print them. Printique is an online photo boutique that specializes in printing memories on photo books, prints and wall decor. Take the time to print your life for you and your little ones. Save 15% on your first order with code: WELCOME15 https://printique.com/