Disclosure: This event was sponsored.
Save 20% Off Harlem Globetrotter Tickets Any Game left on their tour!
On January 30th, My family and I were able to attend the event in Huntsville, Alabama at the Van Braun Center. Before actually attending the event I had only heard of the Globetrotters and never attended an event. To be honest I wasn't expecting it to be as great as it was. The team was definitely skilled in basketball and the ability to hold the crowds attention. Which I really enjoyed and I know the family did as well.
The Harlem Globetrotters are worldwide icons, synonymous with family entertainment and great basketball skills. The Globetrotters represent 90-plus years of breaking down barriers, acts of goodwill and a commitment to fans that goes beyond the game.
Abe Saperstein founded the team in 1926, and they played their first road game in Hinckley, Illinois, on Jan. 7, 1927. Since then, the Globetrotters have entertained more than 148 million fans in 123 countries and territories worldwide, introducing many to the sport of basketball. The team are pioneers in popularizing the slam dunk, the fast break, the forward and point guard positions, and the figure-eight weave. In 2010, the Globetrotters also introduced the first-ever 4-point shot, a shot located 30 feet from the basket – almost 7 feet beyond the NBA's three-point arc.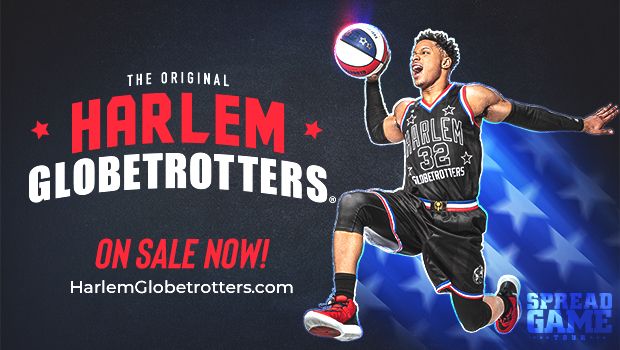 After the game we discussed with the kids who their favorite players are and the boys decided that "Bulldog" was their favorite and the girls really liked X-Over.
One thing that I wish I would have known about is the Pre-Magic pass. Due to our seats being higher up we weren't able to meet and greet which the kids were upset about. However by purchasing the Pre-Magic pass you are granted access to the venue 2 hours before the event even starts which would be great for photos and autographs!
Another thing that I would do before hand is purchase your merchandise on Amazon as the in house prices are of course a bit higher and when you're on a budget it's definitely worth to save every penny!
Save 20% Off Harlem Globetrotter Tickets Any Game left on their tour!
CLICK HERE TO SEE THE TOUR DATES AND BE SURE TO ORDER YOUR TICKETS WITH THE CODE "USFAM"